Sudoku Classic
Puzzle
Sudoku
Sudoku classic features daily fun or every sudoku fan! You will find sudokus in 1 to 4 star difficulties, so you can start easy and go harder the better you get. It also features a daily challenge sudoku that will be different each day. So be sure to check back daily for your sudoku fun! The game even saves your progress, so you can come back any time you want!
Daily sudoku
There will be a new sudoku every day. Finish it as fast as possible and be sure to check back daily.
To goal of sudoku classic
The goal os sudoku classic is to fill the 9x9 raster with numbers. You can use the number 1 to 9 once in every column, row and 3x3 block. Each raster gives one solution. There are 2 ways to input the numbers: Click the cell first and then a number or click the number first and then the cell. If you press the pencil button you can place possible numbers in cells of which you are not sure. If you are stuck you can press the magic wand, the game will then enter a correct number in a random cell, this will cost you valuable time. Click twice in a cell to remove the numbers.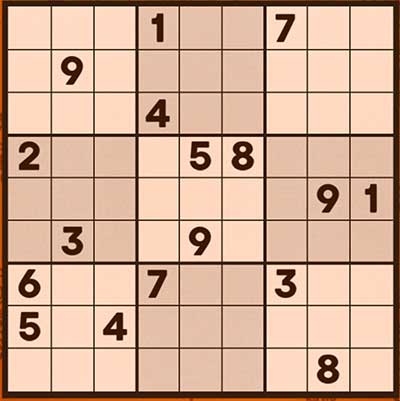 Sudoku classic screenshot.
About the Creator:
Sudoku Classic is created by Famobi. Famobi is a large game developer from Germany, known for their excellent games that our users love to play. They have also created the following games:
Solitaire Classic
,
Candy Bubble
,
Smarty Bubbles
,
Bubbles Shooter
,
Mahjong Classic
,
Orange Ranch
,
Bubble Hamsters
,
Bubble Spirit
,
Bubble Shooter
Puzzle
Match 3
Connect
Mahjong
Solitaire
Zuma
Block
Word
Mini Golf
Pool
Clicker