Puzzle Bobble
Bubble Shooter
This is the original puzzle bobble game as released in 1994. You can play it right here in you browser. This a full port of the puzzle bobble game release by Taito. It features every aspect of the original game. Including the all known awesome soundtrack.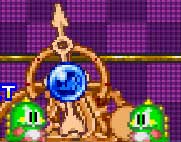 Help Bub and Bob to complete each of the challenging levels by removing all the bubbles. Each level will be a bit harder. But be sure to check each level if there are no easy shortcuts, because these are build in, in some levels.
You can move the shooter with your arrow keys, to release a bobble press the spacebar.
Puzzle bobble is known as an arcade game that featured a lot of play rooms in the 80s and 90s, it is ported to NeoGeo and was usually playable for 50 cents and later 1 dollar per game.
In the 90's Taito also held some puzzle bobble tournaments to see who is the best puzzle bobble player. The goal was to finish the game as fast as possible with as many points as possible. People all around the world are enjoying this all time arcade classic game!
But beware, this game is not for everyone. A normal player get's to round 5. A good player will make it to level 8 and only the pro's go to level 9. At level 9 the game will be a bit easier again. What is your max level? Show us in the comments!
Puzzle Bobble Screenshots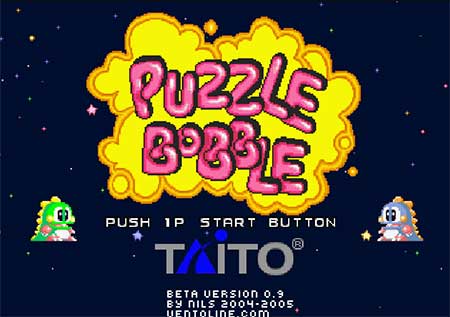 Puzzle Bobble Title Screen.
Screenshot featuring the playing field with the bobbles.
If the row touch the ground you are game over, all the bubbles with turn grey/black and you can't make any more moves.
This video features puzzle bobble gameplay, watch the player reach level 9 which is actually quite nice in
puzzle bobble
How to play:
Complete all levels in this original puzzle bobble game. Shoot all bubbles by making combinations of 3 or more and make large combi's to go trough the levels quickly.
Controls:
Desktop: Use the arrow keys to aim and the space bar to shoot the bubbles.
Mobile: Tap and hold to aim, release to shoot the bubble.
Release Date:
june 1994
About the Creator:
Puzzle Bobble is created by Taito. Taito is a game developer that created the original puzzle bobble games. They have also created the following games:
Bubble Shooter
Puzzle
Match 3
Connect
Mahjong
Solitaire
Zuma
Block
Word
Clicker
Casual