Zoo boom
Match 3
Play Zoo Boom! The match 3 game with animals. Tap or click 2 animals to collect them in your zoo in this colorful match 3 game. Each level does have it's own objective. Like in the first level you must collect 12 Elephants. Click or tap your way until you collect them all 12. Above the goal your total amount of moves is displayed. Get your goal before your moves run out.
You can collect 3 stars per level, one for 0 moves left, one for 1 move left and the last one for 2 moves left. Be sure to finish each level with the max amount of moves left! This number changes per level
Use power ups
You can get special power ups by removing more then 5 animals at once. If you remove 5 animals in one touch you will get the bee, if you tap the bee a whole horizontal row is removes.
If you remove 7 matching animals you will get a skunk. The skunk will remove a block of 9 animals.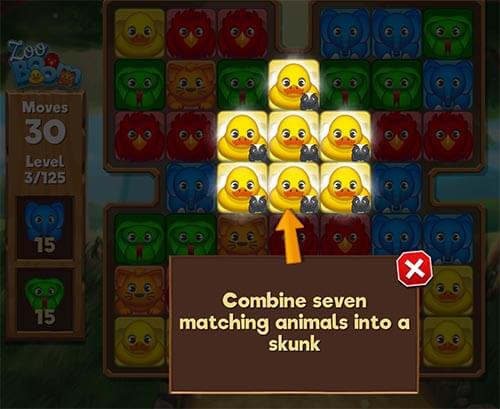 Remove 9 matching animals for the Zoo Boom power up, this is the most powerful power up and will remove all animals of 1 color!
If you combine 2 power up animals next to each other you will get a super power up that give you a combined power!.
Collect coins
Some levels require you to collect coins. You can collect those coins by removing animals next to them.
Collect stars for chests
With The stars you collect you can open chests, the first chest cost you 20 stars. You can find power up items in the chests, you can use these in the game. You also find gold bars. With this gold you can buy new items in the shop, like the hammer to remove blocks, the power up items and a special dice that will give you 5 more moves. You can watch a video for 100 extra gold.
125 levels
Zoo Boom does have 125 levels in total. Each level is completely new and challenging. The game gets harder each level, so be sure to save your power ups and gold until you reach the harder levels.
About the Creator:
Zoo boom is created by Famobi. Famobi is a large game developer from Germany, known for their excellent games that our users love to play. They have also created the following games:
Bubble Woods
,
Solitaire Classic
,
Connect Classic
,
Candy Bubble
,
Smarty Bubbles
,
Bubbles Shooter
,
Woobies
,
Mahjong Connect
,
Bubble Shooter
Puzzle
Match 3
Connect
Mahjong
Solitaire
Zuma
Block
Word
Clicker
Casual