Bubbles 2
Bubble Shooter
Puzzle
Match 3
Connect
Mahjong
Solitaire
Zuma
Block
Word
Hidden Object
Mini Golf
Pool
Play the game bubbles 2, bubbles 2 is the 2nd edition of the popular bubbles games. It is a colorful bubbles game in a new version. With more game options, new prizes and a high score function. Our users are spending hours playing this version of the bubbles 2 game.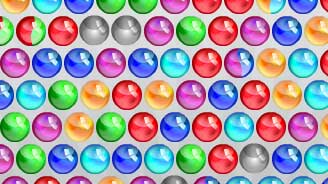 The bubbles of Bubbles 2 are bright and beautiful. A bubble can house a power up. There are several in the game: Star powerup - removes all bubbles with a star. Bomb powerup - blasts away a large radius of bubbles. Half bubbles - these bubbles are 2 colored and can be hit with both colors. We do our best to add more games like this one. Do you like this game? Please leave a comment on the bottom of this page. Do you know any games like bubbles 2? Please contact us or post the game in the comments area and we will add it to our website.
Bubbles 2 Screenshot
Bubbles 2 gameplay screenshot in-game.
Bubbles 2 Video Guide
In this video we complete the game, you will see us remove all bubbles.
How to play:
Pop the bubbles in this classic bubbles game. Make combinations of 3 or more, you can miss 5 times before a new rows spawns. Win by popping all bubbles.
Controls:
Mouse: Aim and shoot with the mouse.
Mobile: Tap and hold to aim, release to shoot the bubble.
Release Date:
June 2016
About the Creator:
Bubbles 2 is created by Coolgames. Coolgames is one of the largest online game studios. They have a rich portfolio with a lot of high clss titles. They have also created the following games:
Tingly Bubble Shooter
,