Tingly Bubble Shooter
Bubble Shooter
If you're a fan of the bubble blasting genre, then you're going to love this. Tingly Bubble Shooter is a fun and colorful experience. You might even say it's a blast! Sit back and relax as you blast your way through the green tranquil hills of Tingly Bubble Shooter. Simply match the color of the bubble that you are about to shoot to the bubble you are shooting at and let it fly. Match three or more bubbles of the same color to make them explode. Burst all of the bubbles to clear the board and progress to the next stage. Use well placed shots to knock down rows of bubbles in one go. As you progress through the game you will unlock bubbles with special powers. There are endless possibilities when you're playing Tingly Bubble Shooter. Can you clear the board quickly and earn the top score? With easy to learn controls you will be bursting your way through endless bubbles in no time. You just use your mouse to aim your bubble and then right-click to fire away. This game is simple, but surprisingly challenging. Take your time, plan your shot and try to pop as many bubbles at one time. How far will you be able to make it? The use of bright and vibrant colors are very appealing to the eye and great for pattern recognition. After a few stages the player will learn to calculate for angles. This is a great game to improve critical thinking skills. So please, sit back, relax and enjoy the highly addictive gameplay while you try to beat your high score.

Play Tingly Bubbleshooter, this is one of the most exiting bubble shooter games available. In Tingly bubble shooter you must challenge an endless wave of bubbles, the playing field is always slowly dropping so you have to be very fast. Choose fast and wisely, a small mistake in the beginning of each level can cost you later in the level.

Tingly bubble shooter is finally here on bubbleshooter.net, playable for everyone. Please comment on your thought of tingly bubble shooter.
Tingly bubble shooter Screenshot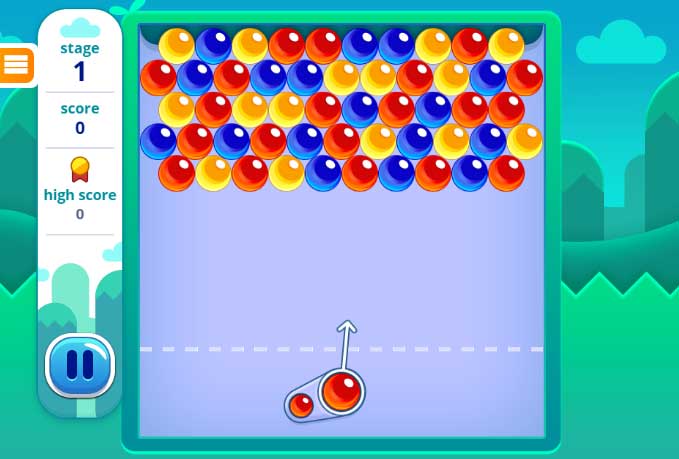 Screenshot of Tingly bubble shooter,.
Tingly bubble shooter Video
A gameplay video of the game Tingly bubble shooter, watch it to see how to play.
How to play:
Shoot the colored balls and make them pop. Remove all bubbles to go to the next level.
Controls:
Mouse: aim by moving the mouse and release the bubble with a click.
Mobile: Tap to shoot the bubble in this Tingly bubble game.
Release Date:
February 2016
About the Creator:
Tingly Bubble Shooter is created by Coolgames. Coolgames is one of the largest online game studios. They have a rich portfolio with a lot of high clss titles. They have also created the following games:
Bubble Shooter
Puzzle
Match 3
Connect
Mahjong
Solitaire
Zuma
Block
Word
Clicker
Casual